Micro Soundwalk
I
My name is Tobias Morgan, I am a student of music at Dartington College of Arts. For my third year Contextual Enquiry Project I have decided to make a Soundwalk. I am publishing this site so that my ideas can reach a wider context. There is a growing community of people that are interested in acoustic composition on the Internet, I hope to become part of this community by adding my own pages.
The original inspiration for my project came from a book that I bought from an antique shop. The book was a tourist guide written around 1950-60, it was full of pull out maps of the area that I live in. I found it fascinating in that the maps represented life from another time. I wondered how it might be possible to combine a map with some kind of sound element, to make a composition or performance.
After much deliberation and investigation I decided to go out and listen to some sounds from my environment. One place that I like to go when thinking about composition is Dartmoor. I wanted to find a place on the moor that could be sonically interesting enough to make a sound composition, however, I was keen on finding a place that was also unusual or perhaps not in keeping with the natural landscape. I visited two reservoirs that I new existed but I had never seen. The reservoirs were structurally spectacular and strangely alluring, I liked the way that we are dependent on the reservoir as a source of water as long as they are kept filled by springs from the land in which they are placed.
It was at this time that I began to think about the sounds that were being produced in that particular location. I tried to imagine what it might have been like before the resorvoir was built. I imagined the quiet sound of a small stream carving a path through the landscape over many years. In contrast, I listened to the roar of water passing through a small gap in the resorvoir wall and falling to a deep pool below, birds that previously may not have nested in the area, families walking and picnicing, dogs barking and cars arriving. From this, it is possible to think of sound as having a history or perhaps telling a story.
Listing Site Updates
Under one of these subheadings, it's a good idea to list recent updates to my site so that visitors, especially return visitors, can check out the new stuff first. For example, I could list the date and a brief description of the update.

I could also list updated news about my site's topic. For example, if my site were about a particular sport, I could discuss the outcome of a recent competition.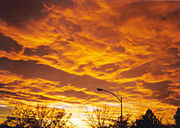 Notifying Visitors of Site Enhancements
Another idea for my home page's text is notifying visitors about the enhancements I put on my site. For example, I want visitors to sign my guestbook or fill out my survey Form E-mailer to answer questions about my site, my business, or my site's topic.
Need some extra help building your site? Here are some topics that may be helpful.
Customizing and Personalizing My Site
I might not want a large amount of text on my home page if I want to guide visitors toward my other pages. Instead of text, I can add photos or interesting links. One of the first things I would want to do is choose a template that reflects what my site is all about. Colors and themes are a great way to reinforce the message and purpose of my site.
Behind the Scenes of My Home Page
Even if I don't put much text on my home page, it's a good idea to include hidden tools that will help me promote my site, so people other than my friends and family actually see it. For example, I could add meta tags, which are hidden codes that allow search engines to find my site. I could also install stats and a counter so I know how many people are visiting. If not many are visiting, submitting my site to search engines will guide more traffic to my site.